The saying goes, "You should never judge a book by its cover."
But that's what we're gonna do today!!! I've compiled a bunch of books releasing in 2020 that I know absolutely nothing about, and I think it'll be fun to try and guess their premises based solely on what I can glean from their covers. Of course, I'll probably be dead wrong about all of these, but maybe this post will still be entertaining to read. 💗💗
My guess: Based on the posters on the cover, I'm guessing that this book is going to get political. It's probably set during or close to the 2020 U.S. Presidential Election, and because the blurb says "One conversation can change everything," I think it follows a girl who's a Republican (is that the word? Idk American politics), but she ends up having a conversation with a guy whose political views are different from hers? And of course they fall in love—probably with the help of many text conversations.
The actual premise: Obviously, I wasn't spot-on, but I did better than I expected. This is about a girl named Meg who has a seemingly perfect life. She phonebanks at a voter registration call center (I have no idea what phonebanking is—can someone please enlighten me in the comments??), and ends up having a phone conversation with Colby, whose life is falling apart. Colby sees Meg as a privileged rich girl and is rude to her on the phone call, but they inexplicably start a long-distance friendship—and maybe something more. The problem is that their personalities may be too different to make it work.
My guess: The title and cover of this book are so epic!! The two main characters (who are both dark-skinned—we love that) are gladiators, people who fight to the death in the arena simply to provide entertainment for the corrupt gods of their world. Gladiators also have magical abilities, which really spices the battles up. The female protagonist has fire abilities, and she and the male protagonist team up to defeat the gods, who make them risk their lives for the sake entertainment!
The actual premise: The synopsis for this is really convoluted… but, from what I understand, this follows a girl named Ash who's descended from a long line of gladiators. When her mother is killed in the arena, she vows revenge against the fire god (why the fire god? I have no idea). The male protagonist, Madoc, pretends that he has the earth god's powers, but in actuality his elemental gift is special™. In her attempts to get revenge, Ash accidentally sets the fire and earth gods against each other, and the conflict can only be settled through a series of gladiator games. Madoc's special powers are the key to Ash's rebellious needs, but he refuses to use them… And then the synopsis ends with the lines, "But when the gods force Madoc's hand, he and Ash uncover an ancient war that will threaten more than one immortal—it will unravel the world."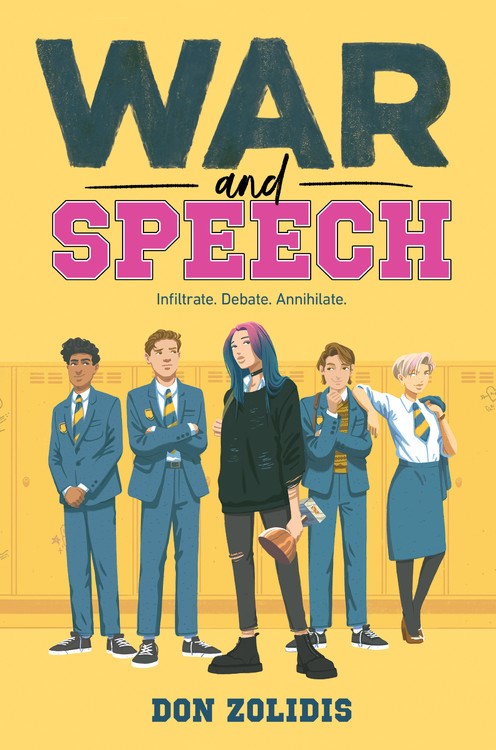 My guess: I bet my right foot that this features a debate team!! This is about a girl who's the odd-one-out in the prestigious private school she attends. She's very rebellious, and the smart, posh kids in the debate team constantly ridicule her for that. So she joins the debate team against all odds in order to shut them up, and the book is about them winning a debate championship!
The actual premise: The Goodreads synopsis for this is really short—there's not much I can glean from it. It just says: "At Eaganville School for the Arts, Speech and Debate is king. The varsity members of the squad are treated like heroes, and the coach, the irascible Joey Sparks, might as well be a god. But when new girl Sydney Williams, a perennial loser, joins the team, she has only one goal in mind: To infiltrate the team in an elaborate conspiracy and tear them apart from the inside out.."
My guess: The title and cover illustration make me think that this follows a trans character navigating what it's like to be trans in historical times, but the blurb tells me that it's a mystery. Um, so this is a historical fiction set in an opera where a murder recently occurred. The prime suspect is a guy whose costume consists of a red dress, but the protagonist knows that he didn't commit the murder, so she has to clear his name??? I really don't know.
The actual premise: This book is so queer I love it! It's set during the 1920's in a queer-friendly speakeasy, where the star of the show is Marion, a boy who performs in a red dress. A customer at the speakeasy is murdered, and though the protagonist, Millie, knows that Marion isn't the killer, the authorities suspect him. Millie teams up with Olive, a waitress, and Bennie, a bootlegger, to clear Marion's name. I've seen from reviews that Millie is bisexual, and I'm assuming that Millie ends up in a love triangle with Olive and Bennie, hehe.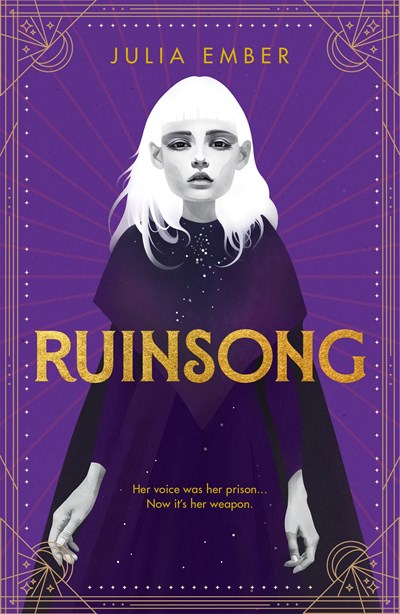 My guess: This is definitely about a girl who has a voice that kills or has destructive abilities of some kind. Her father, the king (because why would he not be? This is a YA fantasy amirite) imprisoned her because her powers were too dangerous. But he was killed in the war against an invading kingdom, and she's the only one who can stop the invaders.
The actual premise: Lmao, I was very wrong, but hey, this is gay!!! It's set in a world where magic is sung, and the main character, Cadence, is forced by the queen (who I don't think she's related to…) to torture the disgraced nobility. She reconnects (and starts to fall in love 😏) with her childhood best friend, a noblewoman who's part of an underground rebellion.
My guess: Thank you so much for that very helpful blurb, Mason Deaver. 😙😙 From what they said, I'm assuming that this is a very quiet superhero story. We follow two best friends—one has always been the smarter, more popular, more successful one of the two, while the other simply fades into the background. Things don't get better when the more successful one gains superpowers, and the story follows how their relationship changes because of that. And since I know T.J. Klune writes gay romances, I'm guessing that this is a friends-to-lovers story.
The actual premise: This book follows a boy named Nick who's the most popular fanfiction writer for the Extraordinaries. When he has an encounter with Shadow Star, the city's mightiest hero, he sets out to become an extraordinary himself. I think this features a love triangle, because the synopsis refers to Shadow Star as his biggest crush, but it also refers to Seth, Nick's best friend, as "maybe the love of his life."
I wasn't completely spot-on with any of these, so I guess I'll have to give up my dreams of being a psychic… But hey, I think I got at least one aspect from the synopsis right in all of my guesses! Also, I had so much fun making up premises for these books! I'll definitely have to do a part two of this post someday!
Are you anticipating any of these books? Do you judge books by their covers?