Once upon a time there was a silence that dreamed of becoming a song, and then I found you, and now everything is music.
I've wanted to read this book for forever now. After I finished Strange the Dreamer, I knew that I had to read its sequel. Now, a little more than a year later, I've finally read Muse of Nightmares, and I can affirm that this series is pure magic.
But before that, I would like to apologize for my absence!! What has it been? Two weeks? This is the longest "hiatus" I've ever taken. But I don't regret taking it, because I know that if I had tried to blog while having school, I would've died.
My mental health has not been it™ for the past month because of stress. But all that shall pass because I'm writing this at the start of a TEN DAY LONG BREAK FROM SCHOOL!!! School, the source of all my tears, is finally gone from my life, and I have all the time in the world to blog and read.
SYNOPSIS (contains spoilers for the first book):
Sarai has lived and breathed nightmares since she was six years old.

She believed she knew every horror and was beyond surprise.

She was wrong.

In the wake of tragedy, neither Lazlo nor Sarai are who they were before. One a god, the other a ghost, they struggle to grasp the new boundaries of their selves as dark-minded Minya holds them hostage, intent on vengeance against Weep.

Lazlo faces an unthinkable choice—save the woman he loves, or everyone else?—while Sarai feels more helpless than ever. But is she? Sometimes, only the direst need can teach us our own depths, and Sarai, the Muse of Nightmares, has not yet discovered what she's capable of.

As humans and godspawn reel in the aftermath of the citadel's near fall, a new foe shatters their fragile hopes, and the mysteries of the Mesarthim are resurrected: Where did the gods come from, and why? What was done with thousands of children born in the citadel nursery? And most important of all, as forgotten doors are opened and new worlds revealed: Must heroes always slay monsters, or is it possible to save them instead?

Love and hate, revenge and redemption, destruction and salvation all clash in this astonishing and heart-stopping sequel to the New York Times bestseller, Strange the Dreamer.
Click for content warnings

war themes, death, torture, graphic blood depictions, slavery, human trafficking, a lot of talk of implied past rape, rape, extreme parental abuse, child abuse, thoughts of suicide, suicide, PTSD, grief, trauma, and sexual content (taken from Melanie's wonderful review!)
*Please note that the link to book depository is an affiliate link, and if you buy Muse of Nightmares through it, I'll get a small commission with no additional cost to you!
I liked this book just as much as I did Strange the Dreamer, which means that I liked it very much. I'm gonna try and keep this review as spoiler free for both books as possible. But for people who haven't read either book in the duology, the first book follows Lazlo, a librarian who's obsessed with a city named Weep. There are a lot of myths surrounding Weep, and whether it's real or fake is heavily debated.
However, one day, a delegation coming from the city itself arrives at the library Lazlo works at and asks for experts that can travel with them back to Weep in order to fix a mysterious "problem." Through some turn of events, Lazlo gets to go with them, and a lot of adventure occurs. There's so much more to the story than that, which is why it's hard to give a synopsis for these books, but all you need to know is that you have to read them.
WRITING SENT FROM THE HEAVENS
Laini Taylor's writing is as beautiful as it was in the first book. She has such a way with words, and whenever you read her books, you can sense how much effort she puts into her writing. Every description is magical and gives a deeper insight into the plot and characters.
I think a part of what makes her writing unique is its over-emphasis on everything. But, that being said, it got a little annoying at times.
Wishes don't just come true. They're only the target you paint around what you want. You still have to hit the bull's-eye yourself.
The banter between the characters was amazing though! It's so good-natured and innocent, but snarky at the same time.
"You should have seen them, Thyon said. "It was surreal." As an afterthought, he added, "Though I can't believe none of them rode the dragon."

"I know!" said Ruza. "What was Azareen's thinking, choosing a winged horse when she could have a dragon?"

"I don't think she was really focused on which creature was best," said Tzara.

"You shouldn't have to focus on it," said Ruza. "It's instinctive. Dragons are always best."
AN ABUNDANCE OF CHARACTER JOURNEYS
In Muse of Nightmares, so many characters start to move on from their trauma, no matter how hard it is, and I found it beautiful.
If you had asked me after reading the first book if I thought that Minya and Eril-Fane could be substantially developed in just one book, I would've said that it was impossible, but I was wrong. I appreciate that both of them are obviously suffering from PTSD, which we don't see a lot of rep for in fantasy, even though almost all of them involve a war of sorts.
I also love Lazlo and Sarai, the two main characters and star-crossed lovers. I was foolishly hoping that their insta-love would tone down a little in this book, but it didn't. I got used to it though. Sure, I'll always prefer slow burn, but I appreciate that Lazlo and Sarai's relationship is the stuff of fairy tales.
People are our safe places. I have one: a person who's a home and a world to me.
Besides those four characters—and I commend the author for incorporating so many fleshed-out character arcs in one book—the side characters were given satisfying endings too. Thyon, who I've loved since the first book, even though he was an asshole, got his redemption arc. And I'm so happy that he's found friendship with Calixte, Tzara and Ruza (maybe something more with Ruza, haha).
I ping-ponged between finding Ruby and Feral's relationship funny and frustrating. They're easily my least favorite couple in the series, but seeing as they're both dumb-asses, they deserve each other.
By far, my favorite of the godspawn is Sparrow. She's such a kind and sensible soul, and she deserves a happy life with someone who loves her completely (aka me)!
Also, in this book we're introduced to two new characters, Kora and Nova, who seemingly have nothing to do with the central plot. I was initially pretty lost as to why their chapters were included, but then everything clicked. Eventually, I got invested in their story line, especially Nova's.
A FANTASY WORLD EXPANDED BEYOND MEASURE
In Strange the Dreamer, we only get a small picture of the world that Laini Taylor has created, and seeing the bigger picture made me go,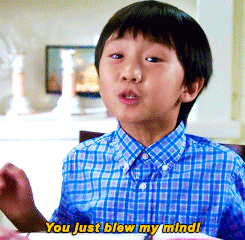 It was also so satisfying to finally get answers to the things we didn't know about in Strange the Dreamer.
OUTSTANDING THEMES OF KINDNESS, SECOND CHANCES, AND LOVE
All of the characters have made mistakes, especially the older ones, like Minya and Eril-Fane, but the narrative never makes them villains for it. Instead, it emphasizes that hate shouldn't be met with more hate.
That, I think, is the ultimate message of the series: Meeting violence with more violence simply creates an endless cycle of hate, but it's never too late to forgive and start changing.
It turned out that sometimes it's enough to start doing things differently now.
Overall, Muse of Nightmares was a satisfying conclusion filled with so much wonder. There were some "me" things that made me knock off a star, but I'm so glad that I finally read this, and I can't wait to see what Laini Taylor comes out with next.
★★★★☆
---
HAVE YOU READ THIS BOOK? ARE YOU EXCITED TO? HAVE YOu READ STRANGE THE DREAMER? WHAT sequel and/or finale didn't disappoint you?