Hi, all! Today I'm going to be posting a double wrap-up featuring the books I read in both April and May because I didn't get to upload an April wrap-up back at the start of May. I also updated my Year of the Asian Reading Challenge 2019 progress tracker, so check that out if you'd like. I raised my goal to a giant panda!
Books I Read in April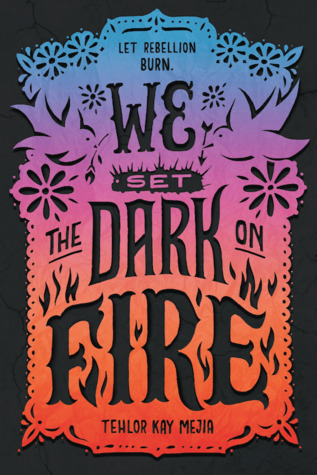 We Set the Dark on Fire by Tehlor Kay Mejia– I wrote a review for this where I basically gush about the main characters, Dani and Carmen, as individuals, and then Dani and Carmen as a couple. Also, since it's Pride Month, I think this is the perfect time to read this unapologetically Latinx and queer book that tackles much-needed topics concerning classism, prejudice and misogyny.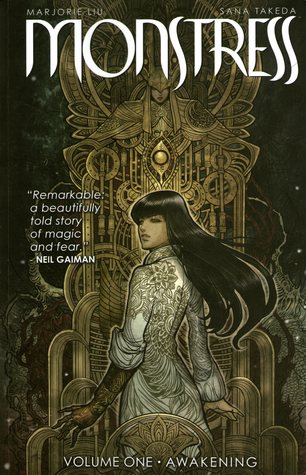 Monstress, Vol. 1: Awakening by Marjorie M. Liu (Writer) and Sana Takeda (Artist)– This was my graphic novel read for the month, and, like basically all of my graphic novel reads of the past months, I rated it three stars. I really think that the length of graphic novels really makes it hard to rate them any higher. If you do want to read this though, be sure to read the trigger warnings first. Also, sneak peek on an "If you liked this, then try this" post that I may be posting–I think this would be a great novel for fans of The Poppy War by R.F Kuang!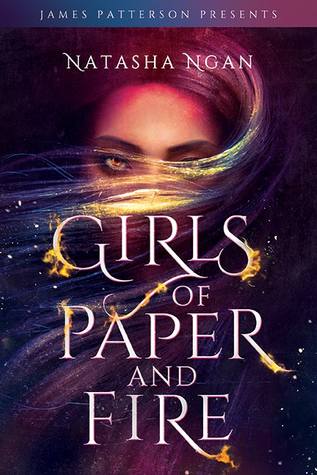 Girls of Paper and Fire by Natasha Ngan– I wrote a full review for this. I just had a feeling that I wouldn't love this as much as everyone else, and I was sadly right. I think that fact kind of numbed the disappointment though, so I wasn't too sad about my rating. If I were to have rated this book on themes and representation alone, it would've gotten an automatic five out of five, but I sadly found both the characters and plot in this one… mediocre. *hides from the booing*
I also wanted to say that the cover for the sequel, Girls of Storm and Shadow, was recently revealed, and you can check it out here! Queer Asian girls in covers add ten years to my life span and they will to yours too!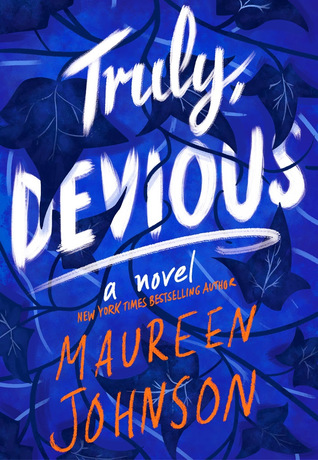 Truly Devious by Maureen Johnson– The murder mystery atmosphere was established beautifully, both in the flashbacks and in the present. I really liked the main character Stevie, and her romance with David was really cute. However, believe me when I say that none of your questions will be answered in this novel. I know that everything will probably be answered in the later books, but the fact that this book just served as an introduction to the mystery, instead of solving any of the mystery, irked me so much.
Books I Read in May
Becoming by Michelle Obama– I don't think it would be fair of me to rate this because I'm not someone who reads autobiographies, and I simply picked this up on a whim. I've now come to realize that, at least at this point in my life, I have no interest in reading about other people's lives. I also don't care much for American politics, so that didn't help this book's case. If I did give this a rating, it would probably be a 2.5 stars. But, if you do regularly read autobiographies and are a fan of Michelle Obama's, I think you'll enjoy this book way more than I did. She also narrates the audiobook herself, so I recommend listening to it if you can.
The Bride Test by Helen Hoang– If I read a romance, I want it to be the slowest burn, ideally with a healthy sprinkling of angst to go with it, and this sadly was a case of the two main characters becoming attracted to each other at first sight, and while that's understandable, it's not my cup of tea.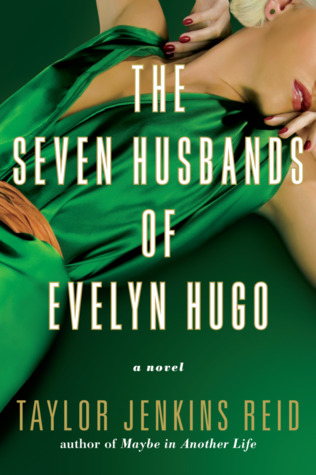 The Seven Husbands of Evelyn Hugo by Taylor Jenkins Reid– I agree with everyone that the moral ambiguity of Evelyn Hugo's character is one of the most memorable parts of this story. I never came to like Evelyn, or any of the characters for that matter, but I could appreciate how morally grey and real they all were. Reid's writing is good, but not great. And I'm sad that I didn't love this as much as everyone else did, but I had always said prior to reading this book that my expectations for it were so high already that there was no way I wouldn't get disappointed, and I was sadly proven right.
Into the Drowning Deep by Mira Grant– I live tweeted my reading experience for this book! I'm also posting a review for this soon, so stay tuned. This book isn't like anything I've ever read before.
The Prince and the Dressmaker by Jen Wang– This book was the saving grace of April and May because almost everything else I read was a three star, but this was a such a high four! Please read this so that you can bask in its cuteness. I promise you will not regret it. Goodreads review can be found here.
The Complete Persepolis by Marjane Satrapi– Yet another graphic novel I rated three stars. I think I'm gonna discontinue my goal of reading one graphic novel each month because I haven't been enjoying almost all of them save The Prince and the Dressmaker. I also wrote a goodreads review for this, and I think I discuss all of my thoughts pretty well!
A Reaper at the Gates by Sabaa Tahir– Before reading this book, I had lost almost all my faith in this series because A Torch Against the Night wasn't that good, and I found Laia boring. Reading this completely proved me wrong because I remembered just why this series is so beloved–the author is so good at invoking emotions from her audience, and the world is so immersive and well-built. Laia and Elias forever! I wish I hadn't read this via audio though for reasons stated in my goodreads review. (I know I've been plugging my goodreads a lot, but I've been trying to get better at consistently posting reviews and ratings there hehe.)
What Happened in the Months of April and May
I've been mentioning this a lot, but I went on a two-month Chinese language study tour to Xiamen, China. I had so much fun being independent and sightseeing in a foreign country, and going on the tour improved my Mandarin a lot. I also got to meet a lot of new friends, who I sadly had to bid farewell to at the end of the trip because we live in different parts of the Philippines, but I'm really grateful to the internet for helping me continue to keep in touch with them! The downside to going on that trip though was that I became perpetually tired due to having to wake up at 6am every morning for breakfast. My skin and sleep schedule were severely damaged.
Now that I'm back, I've been trying to make the most of my remaining summer by getting enough sleep, reading, blogging, and blog hopping, things I probably won't be able to do once the school year starts, and I'm sad about having to go back on the third week of June, but I know people who went back on June 3 or 4, so it could be worse.
I also ummm.. got some physical books this month? If you know me, I primarily read ebooks because physical books are expensive, but National Bookstore hosted a bunch of summer sales this summer, plus my mom's birthday was on May 29 so we got to get 20% off a few books from Fully Booked. I'm so happy to finally have some physical books to hold in my hands! I also won a few giveaways, and I'm so happy because I used to always despair over my lack of luck when it came to them, but all my retweeting has recently paid off. (A huge tip for winning giveaways is to enter as many as you can.) All this is to say that you can expect a book haul coming on the blog! Though I'm not sure how soon it will be since I'm still deciding whether I want to include the books I won in the giveaways, and I have no idea when those will arrive.
Lastly, I redesigned my blog! Remind me never to do so again because it was such a pain in the butt to plan out designs and draw them. I made dividers, a "let's chat" graphic, and a graphic to sign off all my posts with. I'm also planning on using pictures of books I took in bookstores (yes I take pictures of books in bookstores to compensate for the fact that I can't buy them) and pictures I'll take of my book haul for my blog post headers!
Books I Want to Read in June
April was Autism Awareness Month and May was Asian Pacific Heritage Month, but in true slow reader fashion, I was still in the middle of a book with autism rep towards the end of May, so that effectively delayed all of the Asian reading I planned to do. Plus, I told my mom to buy a couple of Asian books during the sales, and I only got to see them in person when I arrived back home at the end of May. I also got some non-Asian non-queer books from the sales, and my mom will kill me if I don't read them immediately, so I probably won't get to read a lot of queer books in June for Pride Month. My (unrealistic) June TBR will feature the LGBTQ+ books I do hope to read alongside all the books I recently purchased.
Red, White & Royal Blue by Casey McQuiston– This is one of the most hyped 2019 releases, and I feel like everyone who's read it has loved it. This follows the bisexual and biracial (Mexican and white) son of the first female president of the United States who falls in love with Prince Henry, a gay prince of England. I requested a copy of this book when I won a giveaway, so it might not arrive in time for Pride Month, but I'm hoping it will.
Girl Made of Stars by Ashley Herring Blake– Despite the improbability of it, I want to participate in two of the weekly Pride Month buddy reads hosted by Reads Rainbow. This is the one for week three, and it also happens to have been on my TBR since forever. It follows a bi girl named Mara whose brother is accused of raping her best friend. I'm pretty sure her love interest is non-binary too!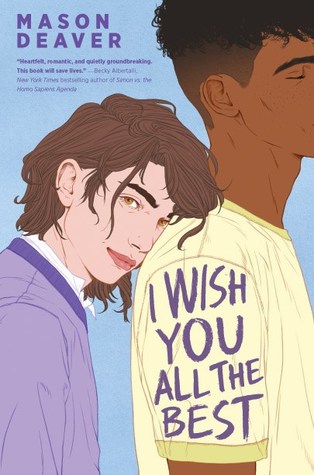 I Wish You All the Best by Mason Deaver– I've read a couple of books with non-binary rep in the past, but they were always side characters. This is the first book I'll read, of hopefully many more to come, that will feature a non-binary character as its protagonist. It's own voices for the non-binary rep, and I believe that the love interest is bisexual! This is also the Reads Rainbow week four buddy read, which means that school will probably be in full swing by the time I have to read this, so I'm praying that I'll still be able to get to it!
These Witches Don't Burn by Isabel Sterling– Since this TBR has so far included a m/m romance, gq/m romance and gq/f romance, I had to include a f/f one. I've read the first two pages of this already and it seems like it's gonna be good! I'm so here for gay witches!!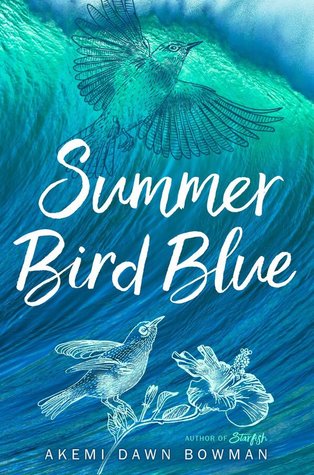 Summer Bird Blue by Akemi Dawn Bowman– WAIT–before you start yelling a me that I can't possibly read all of these books in June, I know that it's unrealistic to include this on top of everything else, but I realized that I didn't have any books with ace/aro rep in this TBR, and we love inclusion in this house, so I'm including this! I don't know much about SBB, but I know it has Asian and Pacifika rep, and the protagonist is questioning ace/aro. Plus, a lot of people absolutely love this book!
In line with all of my past TBRs, this one is extremely ambitious, especially since I only read a couple books a month, but I'm hoping to make the most of my remaining summer break. I can always just read all the queer books I want to in July or the rest of the year instead since I do read diversely all year round!
This was a really long post that took double the time to write because more than half of my work was deleted while I was drafting rip. I hate it so much when that happens. But I enjoyed writing this post for the most part, and you are truly a saint for sticking until the end!
How were the months of April and May for you? Favorite book you read in each of those months? What do you plan to read in June?