Hello, friends! Today I'm coming to you with a review that I've been promising to upload for a while now on Twitter. And now here it is! One of the reasons I've been so ecstatic to write and upload this review is because I feel like this book is criminally underrated. More people need to be reading We Set the Dark on Fire and yelling about it with me because it's a Latinx dystopian fantasy featuring an enemies to lovers f/f romance.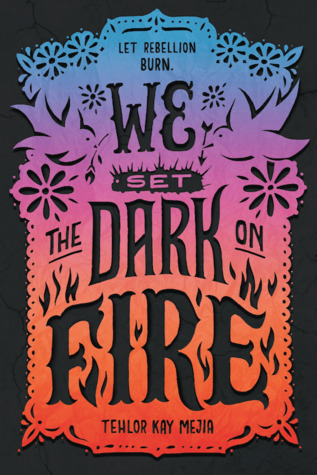 Publication date: February 26, 2019
Publisher: Katherine Tegen Books
Genre: Young Adult, Fantasy, Dystopian
Page Count: 384
Summary: At the Medio School for Girls, distinguished young women are trained for one of two roles in their polarized society. Depending on her specialization, a graduate will one day run a husband's household or raise his children, but both are promised a life of comfort and luxury, far from the frequent political uprisings of the lower class. Daniela Vargas is the school's top student, but her bright future depends upon no one discovering her darkest secret—that her pedigree is a lie. Her parents sacrificed everything to obtain forged identification papers so Dani could rise above her station. Now that her marriage to an important politico's son is fast approaching, she must keep the truth hidden or be sent back to the fringes of society, where famine and poverty rule supreme.
On her graduation night, Dani seems to be in the clear, despite the surprises that unfold. But nothing prepares her for all the difficult choices she must make, especially when she is asked to spy for a resistance group desperately fighting to bring equality to Medio. Will Dani cling to the privilege her parents fought to win for her, or to give up everything she's strived for in pursuit of a free Medio—and a chance at a forbidden love?
Do ya'll remember when it was the dystopian craze of 2012 and we were getting countless narratives of corrupt governments overthrown by teenage main characters? Well, I'd say that We Set the Dark on Fire is bringing back the genre, but with a much more diverse setting and cast. The corrupt government aspect is also heavily reminiscent of our current political climate. In this fictional country of Medio, a wall separates it from the rest of the world, and crossing the wall is strictly illegal. Even though those who live beyond the wall live in poverty and struggle every day to survive, they will be shot on sight if they are seen attempting to cross the border. Those who live in Medio but near the wall are not that well off either. But Medio's politicos are content to live in luxury as countless immigrants and members of the lower class suffer. Wealthy men are also expected to marry two wives, a primera and a segunda. Girls are only really given value in relation to how well they fulfill their assigned roles and please their husband. Sounds familiar, doesn't it?
Because my review for this book will be mostly positive, I feel like it would be good to get my one gripe out of the way. From the beginning, our protagonist Daniela Vargas is painted as the perfect primera, excellent at logic and concealing her emotions. There are countless lines in the book about Dani "putting on another mask" and being "a hundred shades of a girl," but… here's the thing: I didn't really get that vibe from her? I feel like the perfect primera that the narrative was trying to force on her would have handled situations differently, with more finesse without getting into spoilers. If there hadn't been such a clash between what the narrative was trying to sell and what Dani's character was actually like, I would've been perfectly fine with her acting with more fear and self-doubt, because those are emotions felt by everyone, except "perfect spies" and skilled logicians.
Now that my one negative is out of the way, let's talk about DANI AND CARMEN. As individuals, the two are amazing already. Dani was a protagonist who's extremely easy to root for. She's not too sure of her stance on the issues present in her country yet, and she has countless doubts about what courses of action she wants to take being that this could spell out different consequences for her and her loved ones, yet she makes the best choices that she can. I just want to hold her and tell her about how she has no idea how capable and amazing she is.
Carmen Santos is seemingly the polar opposite of Dani, sophisticated and confident. At first, she is seemingly Dani's bully, but the (very understandable) reason for this is revealed later on in the book. Behind her entitled segunda exterior, Carmen is surprisingly kind-hearted, and the haughty aspects of her personality translate into a fierce devotion for the ones she loves.
Tehlor Kay Mejia did such a good job of showing how Dani and Carmen complemented each other perfectly all along. Dani and Carmen are a sapphic power couple. I just love romantic relationships wherein the two are foils of each other and this was definitely a case of that. I loved how we're shown that underneath all of their differing traits, Dani and Carmen are equally strongly passionate about what and who they believe in. We stan narratives wherein two girls promised to one man fall in love with each other instead (see: Girls of Paper and Fire).
And if I didn't give you enough reasons to pick this book up already, the writing completely immerses you into the world of Medio, from its marketplace, political climate, to the lives of those who live in poverty. Every word is seemingly infused with activism, calling everyone to fight back against prejudice, indifference and misogyny.
As for the ending of this book, I'd say that it ends in a cliffhanger and a lot of things are left to be explained in the sequel, which I am highly anticipating. Overall, We Set the Dark on Fire is an unapologetically sapphic and Latinx novel that makes much-needed political statements. I see no reason why you wouldn't want to pick this book up, especially since June is Pride Month, and this book features a sapphic romance!
Have you read this book? If you haven't, are you excited to read it now?
Let's me friends on Goodreads! I've been attempting to post consistent reviews on there! And I always interact with people on Twitter!