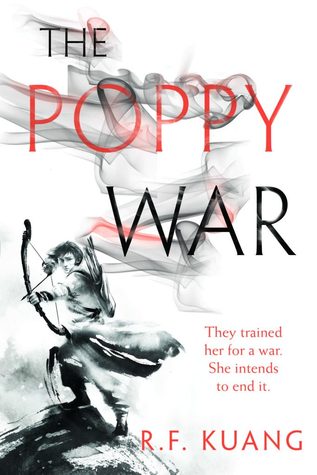 Rating: 4/5 stars
Synopsis:
When Rin aced the Keju, the Empire-wide test to find the most talented youth to learn at the Academies, it was a shock to everyone: to the test officials, who couldn't believe a war orphan from Rooster Province could pass without cheating; to Rin's guardians, who believed they'd finally be able to marry her off and further their criminal enterprise; and to Rin herself, who realized she was finally free of the servitude and despair that had made up her daily existence. That she got into Sinegard, the most elite military school in Nikan, was even more surprising.
But surprises aren't always good.
Because being a dark-skinned peasant girl from the south is not an easy thing at Sinegard. Targeted from the outset by rival classmates for her color, poverty, and gender, Rin discovers she possesses a lethal, unearthly power—an aptitude for the nearly-mythical art of shamanism. Exploring the depths of her gift with the help of a seemingly insane teacher and psychoactive substances, Rin learns that gods long thought dead are very much alive—and that mastering control over those powers could mean more than just surviving school.
For while the Nikara Empire is at peace, the Federation of Mugen still lurks across a narrow sea. The militarily advanced Federation occupied Nikan for decades after the First Poppy War, and only barely lost the continent in the Second. And while most of the people are complacent to go about their lives, a few are aware that a Third Poppy War is just a spark away . . .
Rin's shamanic powers may be the only way to save her people. But as she finds out more about the god that has chosen her, the vengeful Phoenix, she fears that winning the war may cost her humanity . . . and that it may already be too late.
(Huge) content warnings for: rape (off-page but extremely graphic and disturbing), genocide, war themes, racism, drug use, captivity, torture, graphic descriptions of violence and injuries, animal abuse, pedophilia
---
The Poppy War begins with our fourteen year old protagonist, Fang Runin, refusing to accept a marriage to a man more than thrice her age arranged for her by her adoptive aunt and uncle. She decides that her ticket out will be acing the Keju, a test wherein the higher the score, the increased chance of schools accepting a student into their ranks. But for the highest scorers, they will attend Sinegard, a military school where future generals and statesmen are trained, and more importantly, where tuition is free.
But there's a problem–children have been studying for the Keju since birth, while Rin only has two years of preparation until she turns sixteen and takes the test.
So here we come across the plot point so many people mentioned in their reviews–the lengths Rin goes to just for her freedom.
And through all that hardship and pain, Rin scores at the top of the entire province, granting her an escape to Sinegard.
I love fictional school settings so. Much. Maybe it's because school is a big part of my life—it's where I've met my closest friends, learned more about myself as a person, the reason I get a maximum number of six hours of sleep during the school year, and why I barely have time to do things I love. But I digress. Let me try to articulate my fondness for school settings again. I just love when characters are faced with homework, teachers, bullies—all things we ourselves encounter(ed) in our own school experiences—but this time, their homework is about Sunzi's Principles of War, the teachers smoke opium, and the bullies are elitist pricks.
A big part of The Poppy War concerns shamanism, and in Sinegard Rin meets Master Jiang, the drug consuming embarrassment of the school. With Jiang, Rin learns that gods are real, and that there are ways to reach them. She forms a beautiful student-mentor bond with Jiang as he forces her to meditate for hours on end, sends her on wild research missions on theology, and lets her watch him get high. I'd like to call the Sinegard section of this book, Part One, the calm before the storm—in here, Rin learns more concerning her country's war with Mugen while she puts her humble origins behind her forever.
Parts Two and Three narrate the Federation of Mugen launching their third attack against Nikan. It's where Rin's class graduates into a war, and I loved the first battle scene we got. It was excellently chronicled, keeping me on the edge of my seat. However, as the war rages on for years, and we follow narration after narration of sieges and patrols, I did start to wish the book would pick up its pace just a little—maybe even that some pages were cut.
Though, one thing I will commend Parts Two and Three for is their portrayal of wartime. I felt hopeless, tired, and stressed alongside the characters. I was especially gutted by the depiction of Mugen's lust for Nikara blood, their complete disregard for human life.
The dynamics between Nikan and Mugen, inspired by the Sino-Japanese wars, were explained expertly. I clearly saw the reason for Mugen's interest in Nikara, and one of my favorite things about this book is that it's an Asian-inspired fantasy. I love that it draws from my own culture, along with the fact that it stands out among the usual Medieval European fantasies we get. And besides these two nations, I got to know the other regions in this world easily. The fact that these fictional countries were heavily inspired by actual places helped.
As for the magic system, it is broke drown mostly through several long monologues given to Rin. With the role of shamanism being mysterious and viewed differently across various cultures, I know this was probably the only way to explain the system, but it led to numerous info-dumps that constantly bogged down my reading experience.
I didn't absolutely fall in love with Rin, and I definitely liked her more in Part One–her resilience and drive were so admirable. But when the war occurred, she was relegated to the backseat as people more experienced in warfare took the lead. I liked her enough, but she wasn't my favorite character in the novel–that title definitely goes to Altan Trengsin!
We first meet him as Sinegard's top student, perfect at everything and favorite of all six school masters. He's an enigma until he reappears later in the book, and then his true colors—his sorrow, sadness and hatred are revealed. Kuang really did Altan, and consequently me, dirty in this book. I'm such a sucker for characters who seem perfect on the outside, but are actually hiding a world of pain on the inside, and Altan is definitely one of those characters.
For my honorable mentions of characters whom I loved, first we have Chaghan, who is undoubtedly Altan's boy toy if you know what I'm getting at. He's confident, snarky, and he ~knows things~ about the god world. And then there's Kitay, Rin's best friend from the Academy. He's the smart kid we all hate because he doesn't need to study. Kitay's character is a perfect complement to Rin's, him being a steady voice of reason and skepticism to her brashness. And lastly, Nezha, the aforementioned elitist prick, who has an enemies to friends (but maybe it could turn into more?) relationship with Rin. He's occasionally the voice of reason too, but he agrees to her shenanigans because of what great battle partners they are.
Overall, I think that The Poppy War deserves all the hype it got. I know a lot of people do not share my complaints and love this book wholeheartedly–and I can see why. Personally, I had a few negative things to say, but I have no doubt–none at all–that Kuang will step up her game and ruin me in The Dragon Republic! Pick this book up if you want to read more diverse books, especially books with Asian representation, and if you like morally grey anti-heroines whose growth you follow for quite a long time.
---
That's all, folks! Have you read this book? What did you think about it? What's your favorite book with a fictional school setting? Let's also be friends on Goodreads please I'm lonely 😰